After a 4 year abscence, BANG-A-RANG! returns to Scoot Inn! Join us September 1st, for the
BANG-A-RANG! SKA SHOWCASE Featuring 8 bands on 2 stages all from the Austin scene.
Set Times....

OUTSIDE:
5:00 PM - Good Kids
6:00 PM - Sunglasses and Mushrooms
7:00 PM - Kabomba
9:00 PM - The Inverters
INSIDE:
7:30 PM - Coronation
8:30 PM- Micah Shalom and the Babylonians
9:30 PM- Young Costello
11:30PM The Bandulus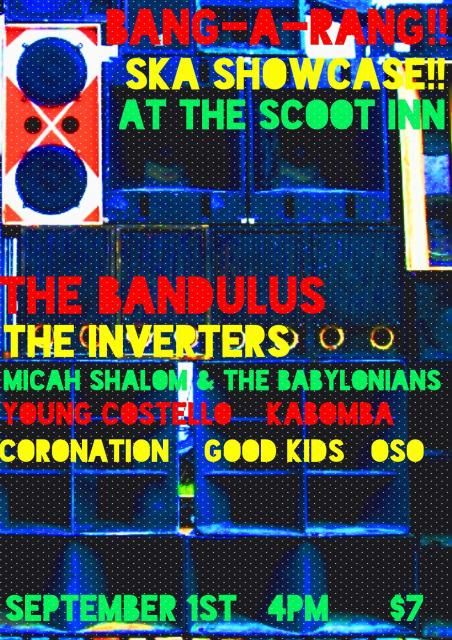 Kicking the night off is Young Costello,they are new to town and eager to hit the scene.In the middle slot is Al Shire's new ska/2 tone project The Inverters, these guys are fun and energetic. Closing out the night as usual are Austin's premier rocksteady soul group The Bandulus.
Doors are at 9pm and cover is only $5! Come out and dance.
SXSW (South by Southwest) is here and The Bandulus are teaming up with Cincinnati ska band The Pinstripes for a couple shows! First you can catch them at a special day party Tuesday March 13th @ Flamingo Cantina doors at noon.
Both bands will be at Catalina House Saturday March 17th for the BANG-A-RANG! Rocksteady Explosion Day Party.Yes the Catalina House is someone's home so please don't steal anything! It's located @ 3301 Catalina Drive Austin, TX 78741. Party starts at 2pm, Pinstripes at 3pm, and Bandulus at 4:30.
Then on Sunday March 18th both bands head to Houston to play the Continental Club with HR of Bad Brains, Ryan Scroggins and Low Society (NYC).
Poster by Right On Time Design:
August 13, 2010
YO! So I made it home safe and sound! The shows out west were awesome! Big up to The Amalgamated, The Bohunks, and Chris Murray. Really glad to be able to hit both coast this summer. Check out the tour video when you can...
We return this Saturday with our first Texas show since June. We're playing out in San Antonio with our buddies River City All Stars. Should be a fun time!
Also check out this interview I did with Aaron from Roots. Rock. Rebel. out of Montreal....
BANDULUS ON ROOTS ROCK REBEL!!!
August 4, 2010
Yo! So I recently did a podcast for Pressure Drop Soundcast with my man Andrew Barker. Check it out! Some nice tunes for your listening pleasure .....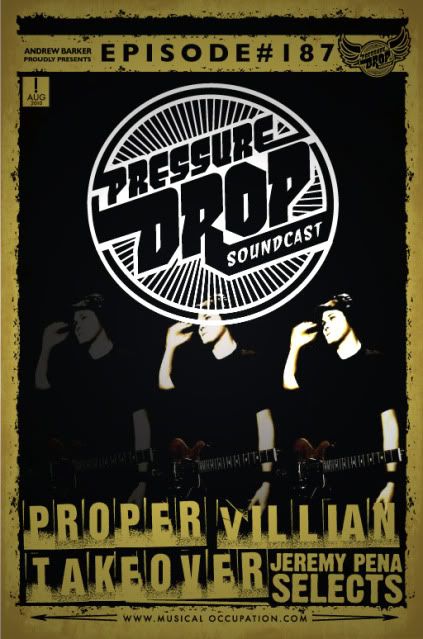 August 1, 2010
Yo! So I'm headed off to California Tuesday! This is the second time that The Amalgamated has backed me and I'm really stoked to be going back so soon. Along the way we have 2 shows with Chris Murray and 3 shows with The Bohunks!! It's always nice to see Chris, and I'm looking foward to see Zeke and the gang from Bohunks. And most of all I can't wait to play (and record) with The Amalgamated!
July 19, 2010
Well, we made home from tour safe and sound. Thanks to everyone who helped us out on the road! We really had a blast! Big up to Keith & Chris Duncan, Sammy K, The Forthrights, Chris Murray, Vic Ruggiero,The Hard Times, King Django, Hub City Stompers, Coolie Ranx, Agent Jay, Jah Point, Andy & Deich, Dave Simon, Verenice & Dakota, and The United House In Chicago.
You can check out our tour video here....
June 30, 2010
We finally have a release date for our new record "ska.reggae.soul". It is out July 6th on Itunes & amazon.com, and will be available at all live shows. We are really excited to get this record out! Speaking of excitement, we leave for tour Monday! First stop BROOKLYN @ the new Bushwick Music Studios (not Eastern District) with Chris Murray, Vic Ruggiero, The Forthrights, and The Hard Times. This show will be epic! Chris & Vic are the reason The Bandulus exist!! Then on Thursday we will be doing a Version City session with King Django (another reason for our existence) for an upcoming Stubborn release. This session is followed by a stellar show @ The Clash Bar in Clifton, NJ with King Django Septet & The Hub City Stompers!! We are really looking foward to this!!
June 3, 2010
We're doing an acoutic set tomorrow June 4 @ Flamingo Cantina with Ryan Scroggins and The Trenchtown Texans and Benny VS The Beast. Then We got the June BANG-A-RANG! rocksteady explosion.....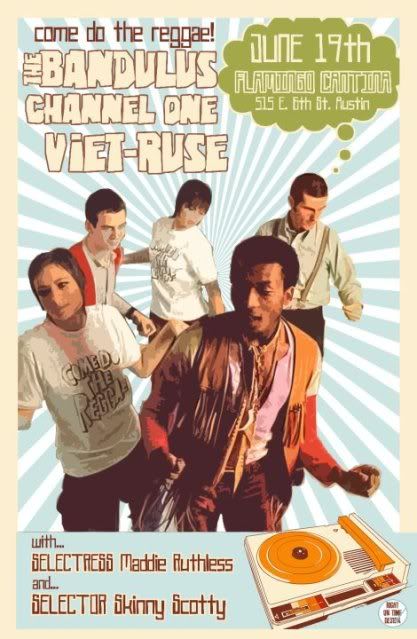 May 27, 2010
Thanks to all who came out to Flamingo Cantina a couple of weeks ago, we got a busy weekend ahead! First off Friday we are in Houston @ Mango's Cafe in Montrose with Ryan Scroggins and the Trenchtown Texans, The Failed Attempt and Plump and Saturday we're in San Antonio @ The Reggae Bar. Come out and dance.....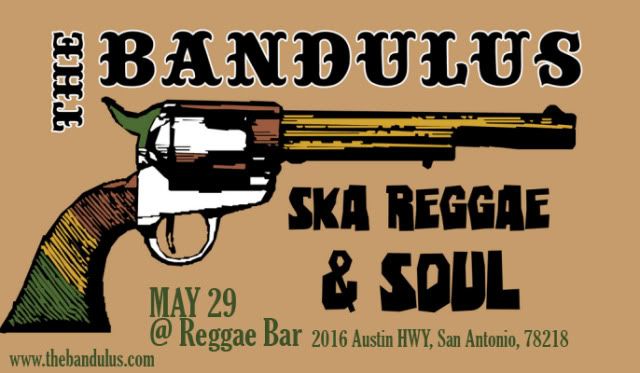 May 6, 2010
Thanks to everyone in New Orleans that came out! We had a blast! Big up to Maddie Ruthless and Fatter Than Albert, thanks for your hospitality. Coming up next is the May BANG-A-RANG rocksteady explosion w/ Los Skarnales, La Royal Club, and Los Eskaretas!
April 28, 2010
Big weekend ahead! First on Friday April 30th, we'll be at Jack's Patio in San Antonio! Then on to New Orleans Sunday May 2nd! Check out this awesome video/flyer that Maddie and crew made....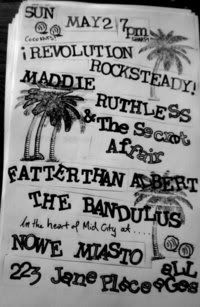 April 19, 2010
Thanks to everyone who came to the last few shows! All three shows were amazing. Big up to Patrick Kelly and Martin Moeller for laying down the rhoads and organ. The show from city hall is up on their website, you can check it out right here . The next show is in San Antonio lookin' forward to it, stellar line up. Also next time you need a flyer done check out Scott at right on time design!
April 12, 2010
Yo! The Band is very busy this week (check the shows page for details)!
First off we should have a preview of our debut cd "ska. reggae. soul." to sell at this years reggae fest! The pressing plant says they'll be in my hands April 14! However, we will only have 100 copies for sale at the next few shows so make sure and pick one up before they are gone!
Also check out www.sideonetrackone.com for a quick mention about us!
March 28, 2010
Thanks to everyone who came out to Ryan's birthday party, it was a blast! It was really nice to see familiar faces in the crowd. Big thanks to Pat Kelly and Ryan Scroggins for helping us out on organ and drums!
We Got a bunch of shows coming up in Austin, including kicking off The 2010 Austin Reggae Festival (Friday, April 16 @ 3:45)!!! But before that, check us out at Flamingo Cantina on April 15 with our good friends Hub City Stompers and Easy Star All Stars for the PAMA International Listening party. Or if you can't get in to that show you can check us out at Austin City Hall on Friday April 16 @ noon for free! So that's 3 shows in 17 hours!!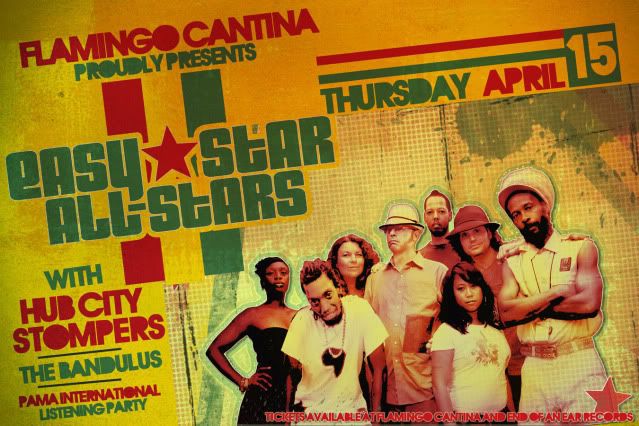 Also if your out early to the Reggae Festival, Proper Villain (Jeremy) will be spinnin' classic ska, rocksteady, and soul @ Charlie's Dub Corner @ noon!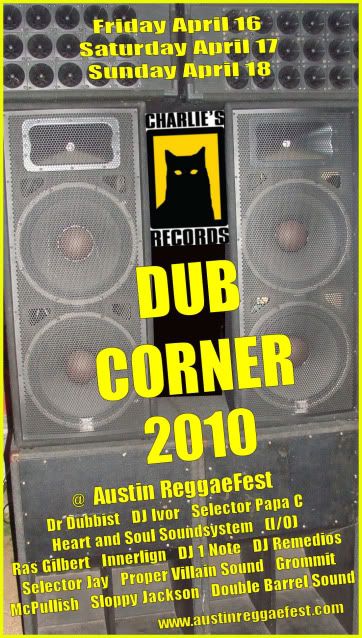 March 21, 2010
YO! We just got added to Ryan Scroggins' birthday show this Friday in Houston! Come out if you can! It's gonna be a blast. Plus Pat Kelly and Ryan Scroggins both playing with The Bandulus!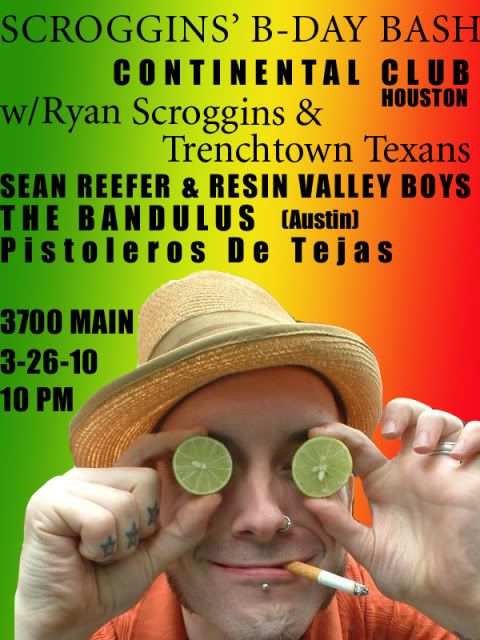 March 12, 2010
YO! We're playing tomorrow night in San Antonio @ The Tonic Bar (5500 Babcock) with our friends The Bohunks from Los Angeles. Come out if you can....
March 1, 2010
Thank you California for the 2 killer shows and an radio interview! Couldn't have been better. Big up to The Amalgamated for everything without you guys this could not have happen. Thanks to Lex for the hook up, Dr. Rob for layin' down the keys, Dr. Mike & Otto @ KKSM Palamar College Radio, it was a blast to be able to play an acoustic show for southern California! Big up to Mike from 2000 Tons of TNT, Eric Fowler for letting me borrow your guitar, and Sherm the Band! Special thanks to the Costa family, Thank you guys so much for letting me crash at your home, eat your food, and use your shower I hope to see you soon!
Check out all these steller bands when you can!
Feb 19, 2010
Yo! Jeremy is going out to California next week to join forces with The Amalgamated! They will be backing him for a few shows in and around San Diego.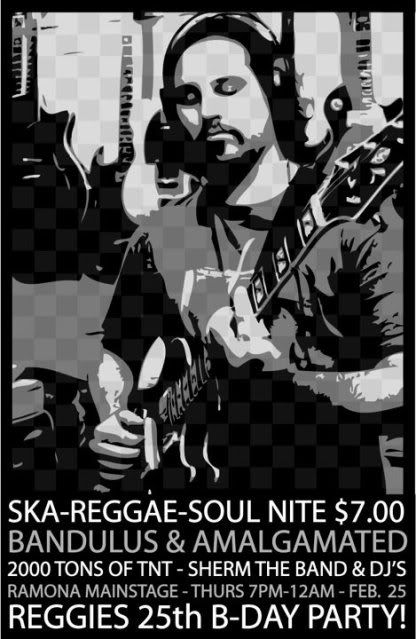 Feb 7, 2010
Thanks to everyone who came out this past weekend! We really had a blast both in San Antonio & Austin. Next show is the BANG-A-RANG ROCKSTEADY EXPLOSION @ Flamingo Cantina on February 20th.
February 3, 2010
This Friday February 5 @ Reggae Bar in San Antonio...
Saturday, Feb 6 in Austin for TX NORML Bob Marley BDay Bash!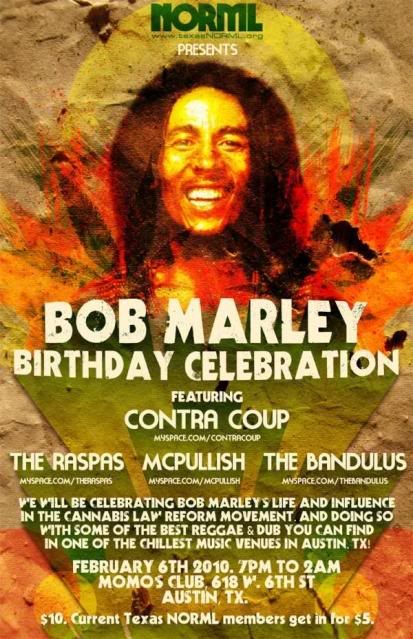 February 2,2010
Yo! Welcome to the website. You can tune in here for all BANDULUS news, shows, etc...
Check out Pressure Drop Soundcast Episode #177 for an interview with Bandulus own Jeremy Pena.
Check out these videos below....
The Bandulus with Vic Ruggiero December 5, 2009
Chris Murray & Jeremy Pena June 6, 2009